President Joko Widodo (Jokowi) has chosen Lieutenant General Andika Perkasa as Army Chief of Staff (Kasad). Andika's fast-growing career to reach the position of four-star general, by stepping over many of his seniors, raises suspicion that political interests dominate the reason behind his appointment.
On Thursday (11/22), Lt. Gen. Andika was inaugurated as the number one person in the Army (TNI AD) in accordance with the Presidential Decree No. 97/2018 on Dismissal and Appointment of Army Chief of Staff. The song "Bagimu Negeri" was played in the background when Jokowi placed a four-star badge on Andika's shoulders.
Jokowi claimed there were four candidates to replace General Mulyono. The president decided to choose Andika because he was considered a complete figure. The son-in-law of Lt. Gen. (Ret.) A.M. Hendropriyono had occupied various important military positions, including the Commander of the Presidential Security Forces (Paspampres) and Commander of Army Strategic Reserves Command (Kostrad).
Looking at his fast-growing career, the scope of his assignment is indeed diverse, even though there is nothing special about it. Andika Perkasa, who was born in Bandung, immediately joined the Army's Special Forces (Kopassus) after graduating from the Military Academy (Akmil) in 1987. He began his career as a platoon commander before becoming a detachment commander.
After graduating from the Army Staff and Command School (Seskoad), he served as a staff officer at the Defense Ministry's Directorate General of Defense Strategy. In 2002, he briefly returned to Kopassus. In the same year, he was transferred to the Military Command (Korem) 051/WKT Military Regional Command (Kodam) Jakarta Raya (Jaya).
Andika also held this position briefly because he was soon transferred to the A Directorate of the Strategic Intelligence Agency (BAIS), which is an intelligence organisation under the Indonesian National Army. Although he has long served in the intelligence agency, he spent most of his time as a student abroad, especially in the US.
Andika earned his first master's degree at Norwich University, which is the oldest private military university in the US. He then studied at the US National War College (NWC). Dissatisfied with it, he also joined Trachtenberg School of Public Policy and Public Administration, George Washington University.
He returned to Kodam Jaya Main Regiment after completing his studies. A year later, the husband of Diah Erwiany, who is the daughter of Hendropriyono, was elected as commander of the Military Command 023/Kawal Samudera in Sibolga, North Sumatra. After serving for one year, he was summoned to the Army Headquarters to serve as Head of the Information Agency (Kadispenad), where he received his first-star badge.
His career took off after Jokowi was elected as the new president through the 2014 Presidential Election. Only eleven months serving as Kadispenad, Jokowi appointed him as the Commander of Paspampres, which gave him a two-star rank. After serving less than two years, he was then assigned as Commander of Kodam XII/Tanjungpura.
He was promoted to a Lieutenant General and appointed to lead the Military Education and Training Command (Kodiklat) after serving less than two years in Kodam XII. In the middle of this year, he was appointed as Commander of Kostrad (Pangkostrad) replacing Lt. Gen. Agus Kriswanto, who retired.
Only five months serving as Pangkostrad, Andika – who has one son from his marriage to Hendropriyono's daughter – received a four-star badge as Army Chief of Staff. This means that he has three promotions of position and two promotions of rank in one year. His fast-growing career clearly raises many questions.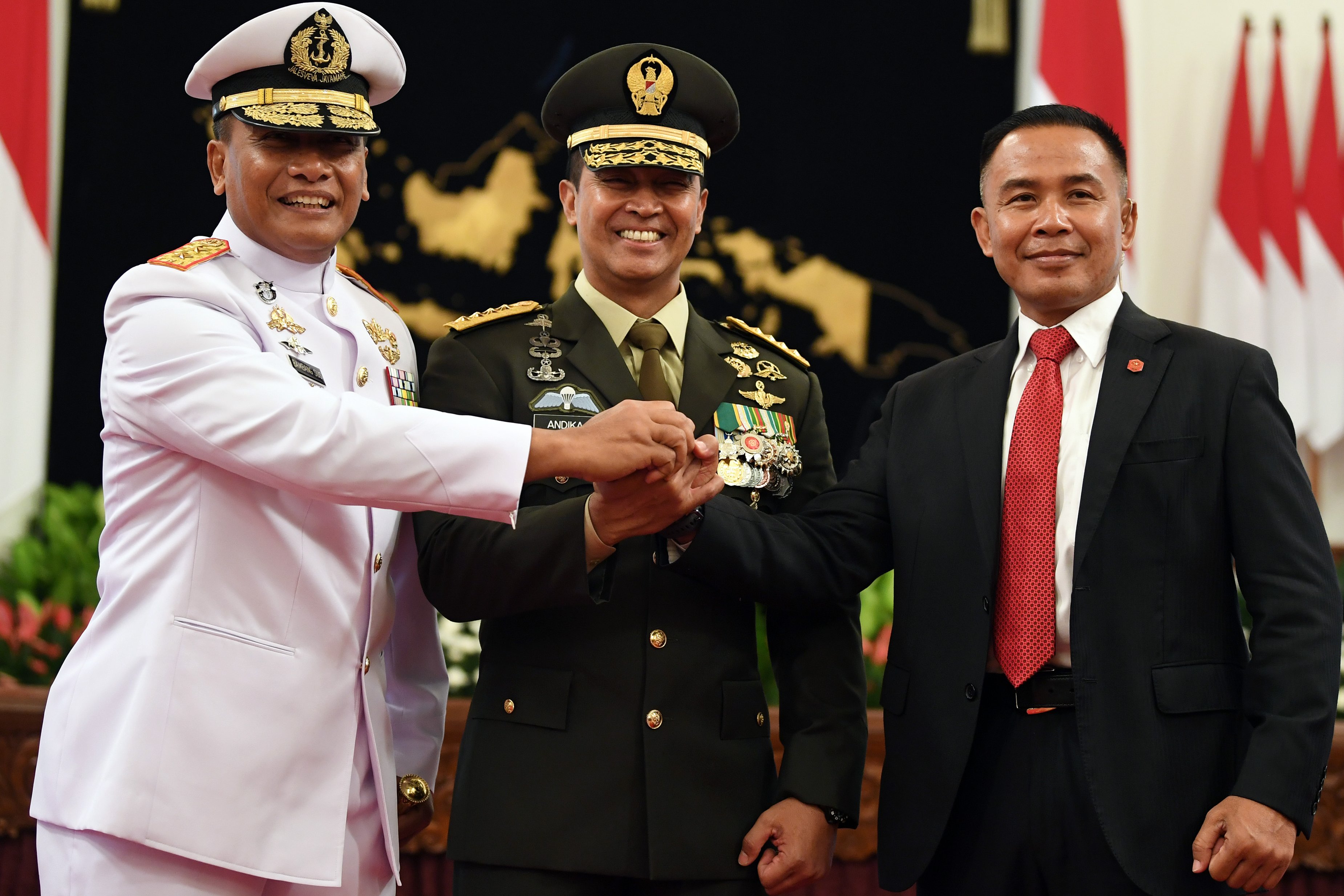 The new Army Chief of Staff General Andika Perkasa (centre) showed "salam komando" or commando greetings together with the Marine Corps Commander Maj. Gen. (Mar) Bambang Suswantono (left) and the Paspampres Commander Maj. Gen. Suhartono after his inauguration at Merdeka Palace, Jakarta, Thursday (11/22). (ANTARA FOTO/Wahyu Putro A)
Setara Institute Research Director Halili is one of those who questioned Andika's appointment. Understandably, the track record of Andika's Military Service was actually overshadowed by controversy because his name had been mentioned in the murder case of Papuan human rights activist Theys Hiyo Eluay in 2001.
Theys was the Head of Papua Presidium Council (PDP), an organisation formed by President Abdurrahman Wahid when preparing special autonomy for Papua. Theys was killed after attending a ceremony to commemorate Heroes' Day (Hari Pahlawan) at Kopassus headquarters. Four officers and three soldiers from Kopassus underwent trial for this case.
On 27 July 2002, The Jakarta Post was the first news agency revealing the possibility of Andika's involvement from a letter sent by the father of one of the defendants, who revealed why his son was innocent in the murder case. The father, who was also a retired military officer, sent the letter to the Kasad at the time, General Ryamizard Ryacudu.
(Read: TNI Commander Manoeuvres to Welcome the Political Years)
Imparsial Director Al Araf also questioned the election of Andika, who was younger than the other candidates. There are 10 other active high-ranking officers having the potential to be elected as the new Kasad, including Akmil alumni who are more senior than Andika from the classes of 1984, 1985, and 1986, as well as fellow alumni from the class of 1987.
Some of them are Lt. Gen. Agus Surya Bakti (class of 1984/Secretary of the Coordinating Political, Legal and Security Minister), Lt. Gen. Doni Monardo (1985/Secretary General of the National Security Council), Lt. Gen. Tatang Sulaiman (1986/Deputy of Army Chief of Staff), and Lt. Gen. Anton Mukti Putranto (1987/Commander of Kodiklat TNI AD).
According to Al Araf, Jokowi should consider senior officers to be chosen to replace Mulyono in order to maintain the climate of the dynamics of regeneration in the army. Apart from potentially damaging the climate inside the army, the final choice that has overstepped some of senior officers could also raise suspicion of political interests behind his appointment.
His father-in-law, Hendropriyono, had a major contribution to Jokowi's victory in the 2014 Presidential Election. The former Head of the State Intelligence Agency (BIN) had also led the Indonesian Justice and Unity Party (PKPI), which is one of Jokowi's supporting parties in the previous and the upcoming presidential elections.
Former Coordinator of the Commission for Missing Persons and Victims of Violence (Kontras) Haris Azhar is one of those who considered that political relations played a greater role in Andika's appointment as the new Kasad. He is worried that the military would be used again to protect the interests of a regime. "We remember how the New Order relied on the army. TNI should not be sacrificed for practical politics anymore," he said.
Deputy Research Director of the Institute for Policy Research and Advocacy (ELSAM) Wahyudi Djafar said a neutral Army Chief of Staff becomes essential because the Army is the most strategic instrument to be used to get votes. This is because the army has the most complete territorial command structure down to the villages.
Although the government always throws neutral jargon, Wahyudi said the experience of the past elections has shown how territorial commands can also be used for certain political interests.
Meanwhile, Andika is not bothered by negative news regarding his appointment. He asserted that the Indonesian Army would remain neutral in the upcoming general and presidential elections. He is also not worried if there are human rights activists who want to continue to investigate his involvement in Theys murder case. "Just go ahead. Say what you want. I have been like this from the beginning. There is nothing else I will comment on," he said.
(Read: Fast Track for Jokowi's TNI Commander Candidate)
Reporter: Ameidyo Daud