Presidential candidate Sandiaga Uno will relocate his campaign team headquarters to Central Java, even though the province has been known as the home base of the Indonesian Democratic Party of Struggle (PDI-P). Meanwhile, Jokowi-Ma'ruf's National Campaign Team (TKN) is focusing on West Java as Prabowo's support base. Why is this strategy adopted?
Sudirman Said, who is the Director of Campaign and Debate Source Material of Prabowo Subianto-Sandiaga Uno's National Winning Team (BPN), expressed the plan to relocate the BPN's headquarters when inaugurating the Prabowo-Sandi Volunteer Post in Tegal at the beginning of this week. The relocation is intended to give special attention to the winning efforts of the presidential candidate number 2 in Central Java.
Understandably, Central Java is one of important electoral districts, where votes must be optimally obtained. Based on the latest final voter list (DPT) from the General Elections Commission (KPU), the number of voters in Central Java province reached 27.4 million, the third largest after West Java and East Java.
According to Sudirman, who also served as the Coordinator of Prabowo-Sandi's Winning Team in Central Java, the planned relocation was decided after examining the importance of Central Java in the battle to win votes in the Presidential Election (Pilpres). In the 2014 presidential election, Joko Widodo (Jokowi) won 70.9 million votes and Prabowo gained 62.5 million votes. This means Jokowi won 8.4 million votes over Prabowo, which was quite large.
From the total difference, about 6.5 million votes came from Central Java. Jokowi notched big victory in Central Java with 12.9 million votes (66.6 percent), while Prabowo only got 6.4 million votes (33.4 percent). This means Prabowo must obtain greater number of votes in Central Java than the number of votes in the previous presidential election if he wants to achieve optimal vote accumulation.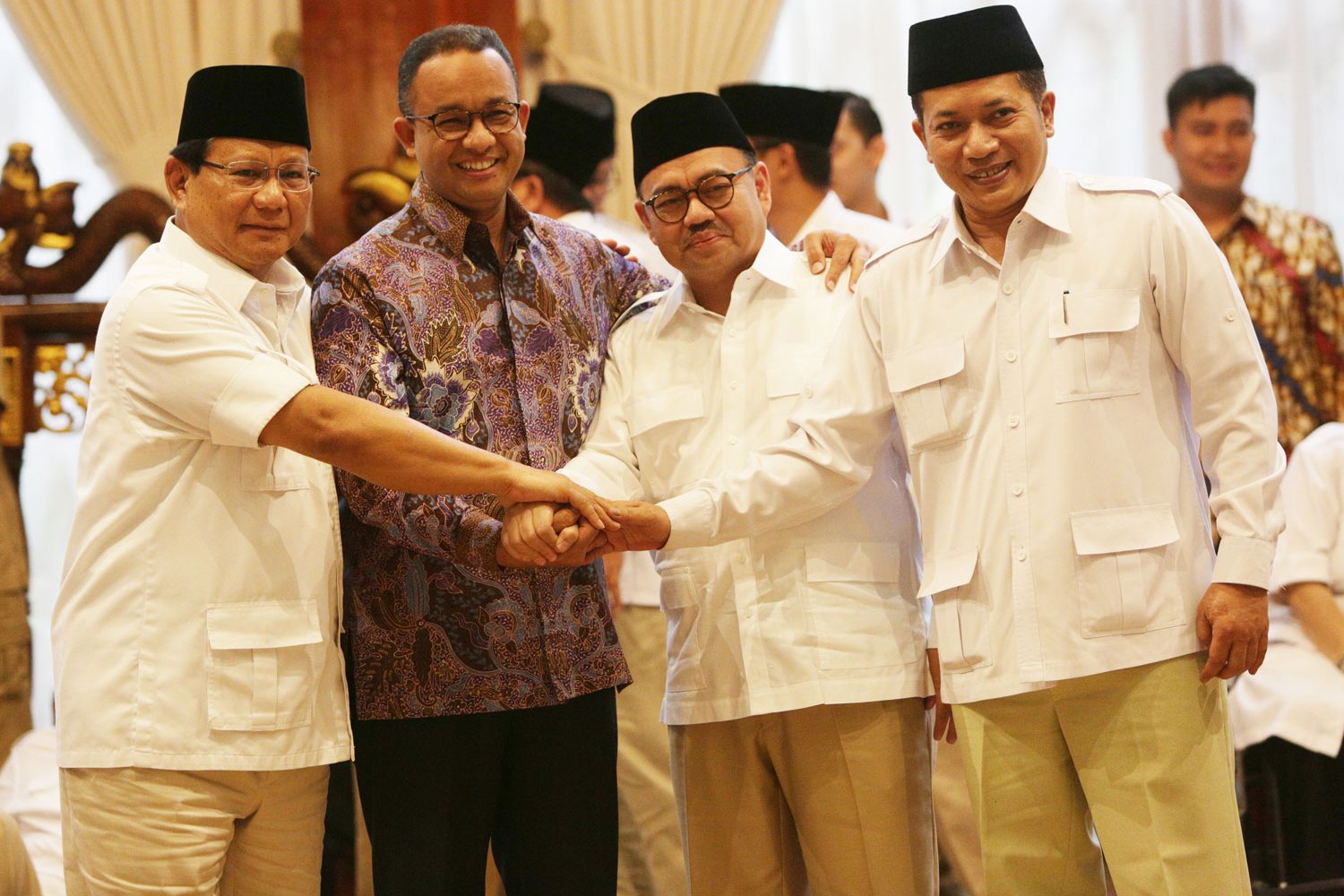 Gerindra Party Chairman Prabowo Subianto (left) together with Jakarta Governor Anies Baswedan (second left), Candidate of Central Java Governor Sudirman Said (second right), and Gerindra Party Chairman Ferry Juliantono during the declaration of Central Java Governor Candidate on Wednesday (12/13). (ANTARA FOTO/Reno Esnir)
Based on the BPN's internal survey, Jokowi was slightly leading. However, Prabowo-Sandi obtained significant additional votes from electoral districts in Sumatra, Kalimantan, and Sulawesi. Prabowo is also predicted to win in Banten, Jakarta, and West Java. In East Java, there will be a slight difference in the number of votes, similar with the 2014 presidential election result. This means Central Java is now a determining area.
Prabowo-Sandi's team wants the number of the votes for their candidates to reach at least the number of votes obtained by Sudirman Said in the 2018 Gubernatorial Election. At the time, Sudirman notched 7.2 million votes (41.2 percent). Meanwhile, his rival Ganjar Pranowo from PDI-P won 10.3 million votes (58.8 percent). Sudirman only lost 3.1 votes to Ganjar.
Based on the team's calculation, with additional votes from Banten, Jakarta, West Java, East Java, and electoral districts outside Java, Prabowo will win if he manages to obtain 41 percent votes. "God willing, we will win the presidential election," Sudirman said.
Although it sounds simple, but it is not an easy task. In addition to Central Java being Jokowi's support base, the Jokowi-Maruf Amin's campaign team also targets West Java, which is Prabowo's support base. In the previous presidential election, Prabowo won 14.1 million votes (59.8 percent), while Jokowi gained 9.5 million votes (40.2 percent).