The government's plan to release terror convict Abu Bakar Ba'asyir has caused a polemic. President Joko Widodo (Jokowi) initially agreed to unconditionally release Ba'asyir, but then changed his stance a few days later after receiving a lot of criticism. Jokowi stated that Ba'asyir could be released on parole.
The plan to release Ba'asyir was initially disclosed by President Jokowi's legal advisor Yusril Ihza Mahendra on Friday (1/18). In his press release, Yusril said he had succeeded in convincing Jokowi to release the leader and caregiver of Al-Mukmin Ngruki Islamic Boarding School in Sukoharjo. The reason is that Ba'asyir has served nine years of the 15-year sentence.
For this reason, Yusril believed it was time for Ba'asyir to be released without incriminating requirements. Jokowi gave his approval and said that the release could be done as soon as possible. However, Ba'asyir asked for an additional time of three to five days to clear up his belongings at the Gunung Sindur Penitentiary in Bogor. Thus, he was supposed to get out of prison on Wednesday (1/23).
President Jokowi confirmed Yusril's statement while visiting Darul Arqam Islamic Boarding School in Garut, West Java, Friday (1/18). He said he had approved the release of Ba'asyir from prison. The decision was taken with several considerations. "Humanitarian reasons. He [Ba'asyir] is now an elderly. It's also taking into account his deteriorating health," he said. Ba'asyir is now 81 years old and often gets sick.
The considerations have also gone through a lengthy assessment since early 2018. In terms of security, Jokowi asked for input from the National Police Chief Tito Karnavian, the Coordinating Minister for Political, Legal and Security Affairs Wiranto, and legal expert Yusril Ihza Mahendra.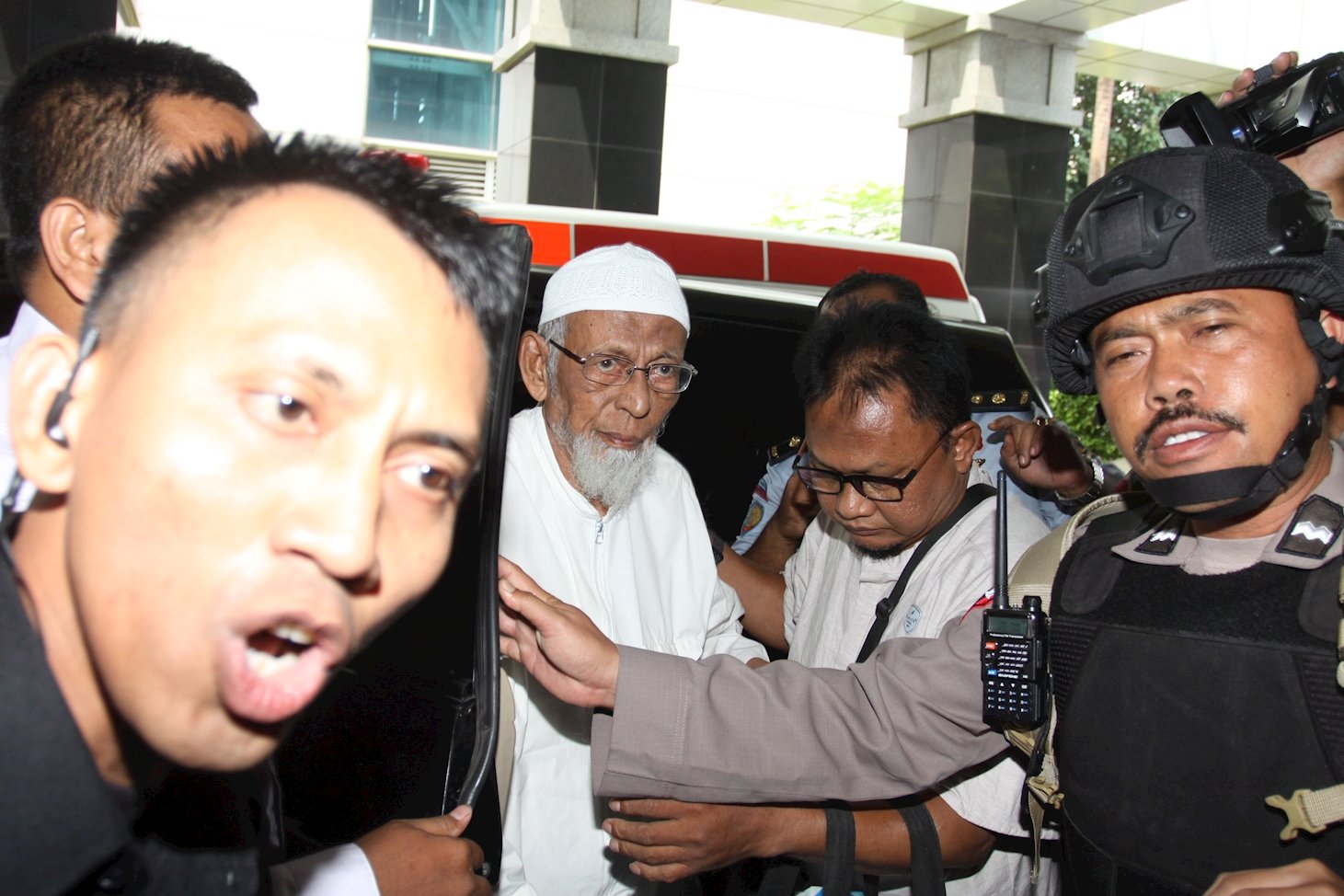 Abu Bakar Baasyir underwent a medical examination at Cipto Mangunkusumo Hospital (RSCM), Jakarta. (ANTARA FOTO/RENO ESNIR)
The Australian government criticized Jokowi's decision to release Ba'asyir, who is known to be the spiritual leader of Jamaah Islamiyah. This group orchestrated the first Bali bombing in 2002, killing 200 people in which 88 of them were Australians.
Australian Prime Minister Scott Morrison immediately contacted the Indonesian government to find out more about the planned release of Abu Bakar Ba'asyir. "Australia's position on this issue has not changed. We always express our deepest objections," he told Reuters on Monday (1/21).
Australia has always opposed any legal relief for Ba'asyir, who has been regarded as the mastermind behind the bombing in Bali 17 years ago. In March 2018, Australian Foreign Minister Julie Bishop stated that the Australians hoped justice would continue to be upheld by giving maximum punishment to the perpetrators involved in the Bali bombings.
In terms of law, Jokowi's decision was also criticized by a number of observers and experts. The Institute for Criminal Justice Reform (ICJR) questioned the release scheme given by Jokowi to Ba'asyir. Citing the statement from Ba'asyir's attorney, the ICJR Executive Director Anggara Suwahju said the scheme is not a parole, clemency or amnesty.
According to Anggara, the release of prisoners before the end of the sentence is a parole. Based on the regulation of the Minister of Law and Human Rights No. 3/2018, parole can be granted with certain requirements. However, this was contrary to Yusril's statement, who stated that Ba'asyir's release will be done unconditionally.
Indonesia does not recognize unconditional release, which is usually done by a king in a country that adheres to the royal system. In a democratic country, the president has the right to grant clemency and amnesty.
Ba'asyir's release scheme is also not a clemency, as stated in the Law No. 5/2010. Clemency is the president's right to provide a reduction of sentence. This right can be granted when inmates requested for clemency and admitted their crime.