Rice problem seems to have no end. At the end of last year, the State Logistics Agency (Bulog) President Director Budi Waseso had an argument with the Trade Minister Enggartiasto Lukita regarding rice import policy as the national production was considered insufficient. But now, Bulog claims it is having difficulty absorbing farmers' rice because its warehouse is full of rice stocks.
After being forced to import rice in large quantities last year, Bulog said that it is now facing difficulties in selling the rice. Bulog's rice was previously channeled to the rice assistance (Rastra) program, which has been terminated and replaced by the non-cash food assistance (BPNT) program. On the other hand, Bulog cannot carry out direct market operations to reduce its rice stock in its warehouse due to the abundant supply of rice on the market.
The BPNT has been active since 2017 to gradually replace the Rastra program. At the time, BPNT started in 44 cities with a total of 1.3 million beneficiary families (KPM), and a budget of Rp 1.69 trillion. BPNT recipients have increased to 15.6 million households, with the government budget reaching Rp 20.59 trillion.
Through the BPNT, the government provides Rp 110,000 in cash per month to the beneficiary families to buy rice and eggs. It is unlike Rastra, which provides direct assistance in the form of 10 kilograms (kg) of rice per month supplied by Bulog. Starting in June 2019, the government will fully terminate the Rastra program.
Bulog argues that the transfer of the program will result in losses for this state-owned food company. Since the start of the BPNT program, Bulog's rice distribution has gradually diminished. Based on its data, rice distribution reached 3.2 million tons in 2015 and then dropped to 2.7 million tons in 2016 and 2.5 million tons in 2017. Last year, the rice distribution was only 1.2 million tons. With the end of the Rastra program this month, Bulog is only capable of distributing 354,000 tons.
The problem is that Bulog also has to absorb farmers' rice, which is targeted at 1.8 million tons this year. This means there is still 1.4 million tons of rice in Bulog's warehouse, which does not yet have a clear distribution target. Moreover, the rice harvest period has arrived. Until mid-May, Bulog was only able to absorb around 430,000 tons even though in 2015-2018 it was able to absorb one million tons in the first half.
According to Budi Waseso (Buwas), the government must have a commitment to channel its rice reserves in the Bulog's warehouse. "Is it necessary to have food reserves in Bulog? If it's not, Bulog does not need to hold it anymore," he said at the Parliament Building on Wednesday (5/15).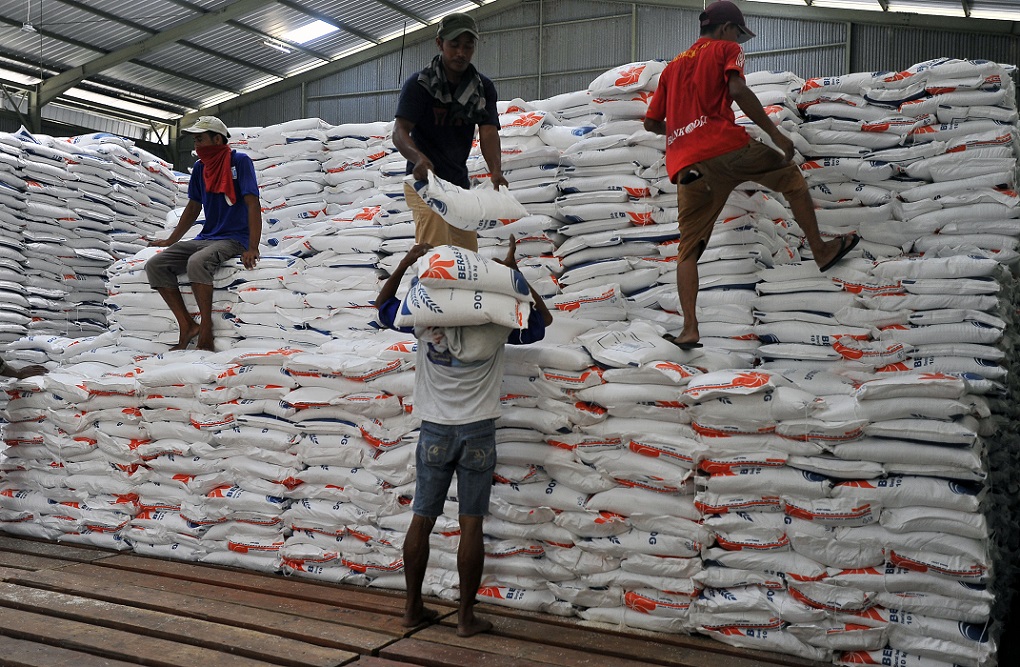 Bulog Rice Stock (ANTARA FOTO/Asep Fathulrahman/foc)
The 2018 Imported Rice Piling Up in Bulog's Warehouse
Last year, the government issued a rice import policy of two million tons. Bulog was assigned to carry out the import, but did not realize it in accordance with the stipulated quota. Bulog only imported 1.8 million tons. This created tension between Bulog and the Trade Ministry.
Minister Enggartiasto Lukita said that Bulog must continue to realize the remaining import quota in 2018 because the Trade Ministry had issued a permit. The export policy was the result of a decision at the ministerial coordination meeting to maintain price stabilization in the market.
However, Buwas refused to do so as there was still a lot of rice stock and its warehouse was full. Bulog can no longer able to accommodate imported rice. It even rented private warehouse and borrowed warehouse owned by the National Police (Polri). He rejected the import with the assumption that rice needs were still sufficient until the end of 2018.
Apparently, the import quota set by the government was indeed too large last year. This is why the remaining rice is still piled up until today. Of the total 1.8 million tons of imported rice, Buwas said that only 150,000 tons were used. "Until now, our rice cannot be distributed. We continue to absorb from farmers. The need for rice in the market is now abundant. We cannot carry out direct market operations," he said. The abundant stock has caused rice prices to decline since last February.