There were no definite answers about the cause of power outage that occurred for 5-36 hours in Jakarta, West Java, and Banten. Many speculations arose, such as trees that disrupted the transmission network, sabotage, and efficiency efforts from PLN that ignored the safety of the electricity system.
President Joko Widodo (Jokowi) visited the PLN Headquarters in the South Jakarta the day after the incident. He reprimanded and asked for an explanation from the PLN leaders. Jokowi saw that PLN did not have a well-prepared calculation in its operations, which caused the electricity in the center of the government went off.
PLN Acting President Director Sripeni Inten Cahyani only mentioned the chronology of power outages in the western part of Java, which was triggered by transmission circuit disruptions. However, the exact cause is still under a more in-depth examination.
Electricity in Java and Bali Island comes from east to west. "Backbone network support through two transmissions, which are the north and south. Each has two circuits, so there are four circuits," Sripeni said in Jakarta, Monday (8/5).
The north transmission system stretches from Rembang to Ungaran and Mandiraja, while the south transmission system stretches from Kediri to Kasugihan and Tasik. Each circuit has a supply power of 500 kilovolts. On Sunday (8/4) at 11.48 AM, electricity transmission systems in two northern circuits went off, due to the presence of a sengon tree with a height that exceeds the reasonable limit. It disrupted the transmission cable. As a result, all-electric current from Ungaran in the north was transferred to Kasugihan and Tasik in the south.
When the north transmission system went off, PLN was doing a maintenance on one circuit in the south. As a consequence, the electric current from east to west -usually passes through four circuits- only passed through one circuit, causing an overload and load discharge on generators in the western region, which then cut off power in some areas.
The problem was PLN's anticipation measures were slow after the blackout. According to Sripeni, the power plant in Saguling, West Java, as the emergency stabilizer can only provide electric current to Suralaya and Balaraja Steam Power Plants (PLTU) two hours after the incident. Meanwhile, the PLTU Suralaya required more than eight hours to heat up and produce steam.
The electricity from PLTU Suralaya has the required capacity to turn on power plants in Muara Karang and Tanjung Priok. Because it takes time, the two PLTGUs in Jakarta was too slow to turn on. "The electric current was running fully to Muara Karang and Tanjung Priok at 6.00 PM. The electricity flowed step-by-step because they have to turn it on one-by-one," Sripeni said.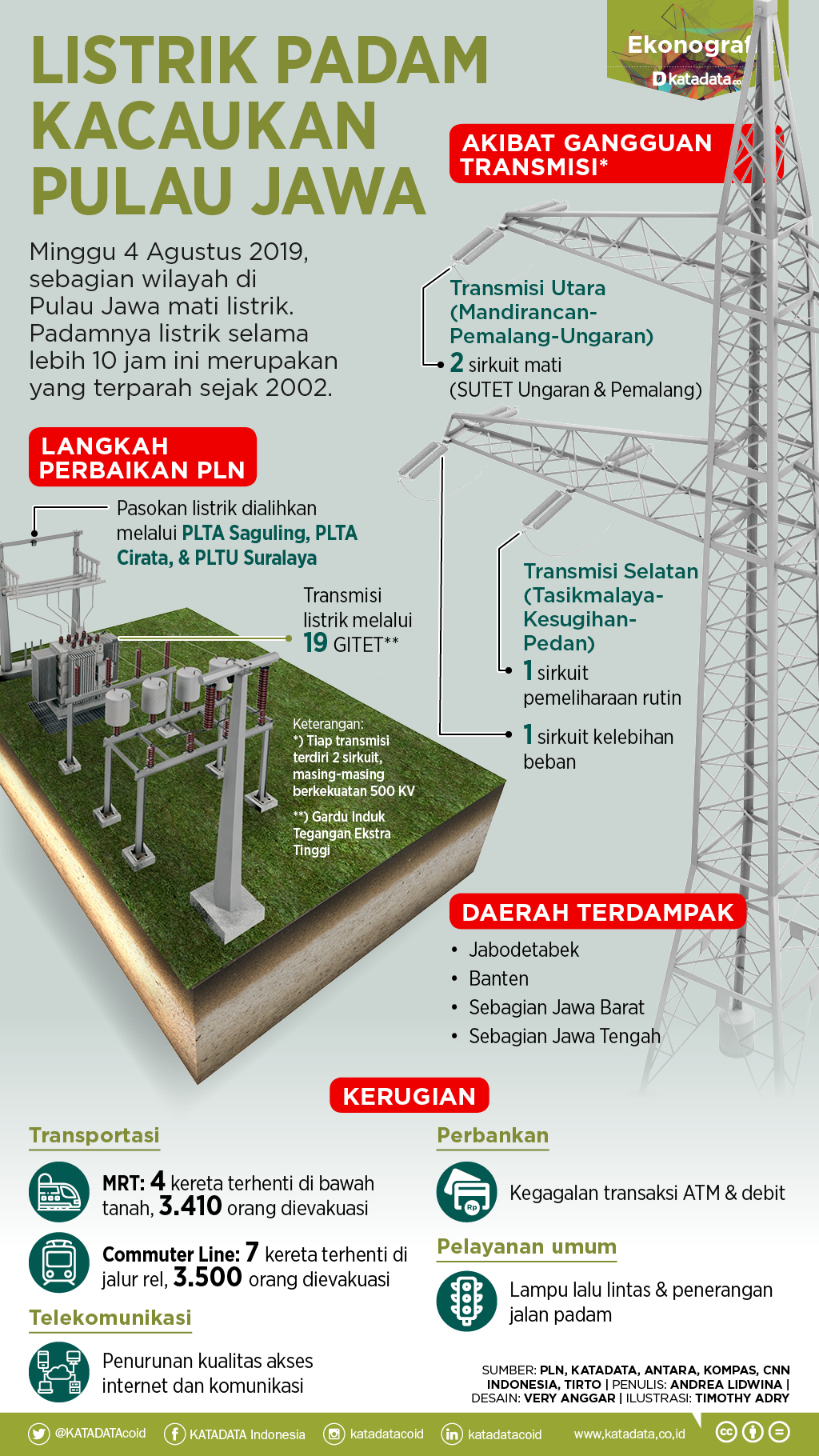 PLN (Katadata)
Pursuing Profit, Ignoring Safety
Former Coordinating Maritime Affairs Minister Rizal Ramli suspects other problems that have caused power outages in three provinces of West Java and parts of Central Java. Transmission interruptions could have occurred, but PLN should have been able to anticipate it.
The total capacity of power plants in Jabotabek (Jakarta, Bogor, Tangerang, and Bekasi) actually reaches 13.5 thousand megawatts (MW), while the peak demand is only 11 thousand MW, meaning there is still a surplus without the need to rely on electricity supply from the Eastern Java. When there is a disruption in electricity supply from the east, Jabotabek should still be safe. However, what happened recently was not the case. Electricity in Jabotabek went off because its supply from the east was cut off.
He suspects that it has something to do with PLN's efficiency efforts. Moreover, the company now has substantial debt, reaching Rp 394 trillion. Although there was a profit of almost Rp 12 trillion, the government is still in arrears in paying the electricity subsidy worth Rp 48.1 trillion for the period of 2017-2018.
With financial conditions that have a lot of debt and must make a profit, PLN was obliged to do efficiency in its operations. "I guess that there is pressure to improve PLN's finances. The easiest way is to reduce high-cost operations and maintenance costs," Rizal, who once served as finance minister and coordinating economic minister, told the audiences of Indonesia Lawyers Club (ILC) Forum on TVOne.
Rizal also said the most accessible way that PLN could do in its effort to save money is turning off all high-cost power plants. The existing power plants in Jakarta are using natural gas, such as PLTGU Muara Karang and Tanjung Priok. He suspects that six to seven power plants were shut down.
A gas power plant costs U$12 cents per kilowatt-hour (kWh), twice as expensive as a coal plant that is only U$6 cents per kWh. Therefore, said Rizal, the gas generators in the west were shut down, and electricity flowed from the east, which was cheaper.
According to him, such an effort could be made as an efficiency measure, but not all power plants can be turned off. There should be a backup to anticipate if there is a disruption in electricity supply from the east. Some generators must be kept running to quickly restore the system when there is a problem.
PLN also has a protection scheme that can maintain the electrical system in the event of something abnormal in operation, or commonly called the defense scheme. This scheme can minimize the impact due to disruption to the system, overcoming the N-1 conditions that are unfulfilled, and anticipate an increase in load. "The problem is that whether the defense scheme is implemented or not?" a source who once served as PLN high-ranking official told katadata.co.id.
Similar to Rizal Ramli's criticism, the source mentioned the company's previous leadership held by those having financial industry backgrounds. According to him, PLN is a company in charge of serving and ensuring the availability of electricity for the entire community.
In operation, the defense scheme does need a high cost. Many generators have to be turned on as backups because it takes a long time to be able to turn them on when they are immediately needed.
For people with a financial background, good companies are probably companies with efficient operation and positive financial performance. Turning on a generator that isn't needed might be considered a waste. Moreover, PLN has substantial debt and needs funds for capital to build new infrastructure in areas that are still untouched by electricity.
Coordinating Maritime Affairs Minister Luhut Binsar Panjaitan was aware of this condition. According to him, the PLN board of directors' positions should be given to those who understand electrical engineering rather than those who only understand financial problems. That way, Indonesia's electricity condition can be more conducive. "I think PLN's role should not only be taken by people who understand the matter of finance. So, we have to go back to the main matter, which is electrical engineering," he said during an event titled 'Tea Time With Journalists' at the Ministry of Maritime Affairs office in Jakarta, Monday (8/5).
Efficiency Not Causing Blackout
Sripeni denied that the savings made by PLN had ignored the safety of the electricity system. In the ILC Forum on TVOne last week, she said PLN cannot do efficiency carelessly because there are rules that cannot be violated. Sripeni convinced the operations carried out by PLN were following standard operational procedures (SOP) and electrical system safety aspects.
When carrying out maintenance, mitigation efforts have also been carried out. Sripeni ensured that PLN had mitigated the N-1 scheme, meaning the electrical system can still run normally when a transmission circuit is interrupted. The problem is that it was N-2 conditions, where the interference occurred on two transmission circuits. (See infographic here)
Even so, the Energy and Mineral Resources Ministry continued to criticize PT PLN's mitigation system in preventing mass power outages. According to the Energy and Mineral Resources Ministry's Electricity Director General Rida Mulyana, PLN should have a systematic plan to deal with electricity disruptions and prevent it from spreading. "It should be minimized. There should be another plan if Plan A doesn't work. Why can't it work," Rida said at a press conference on Monday (8/5).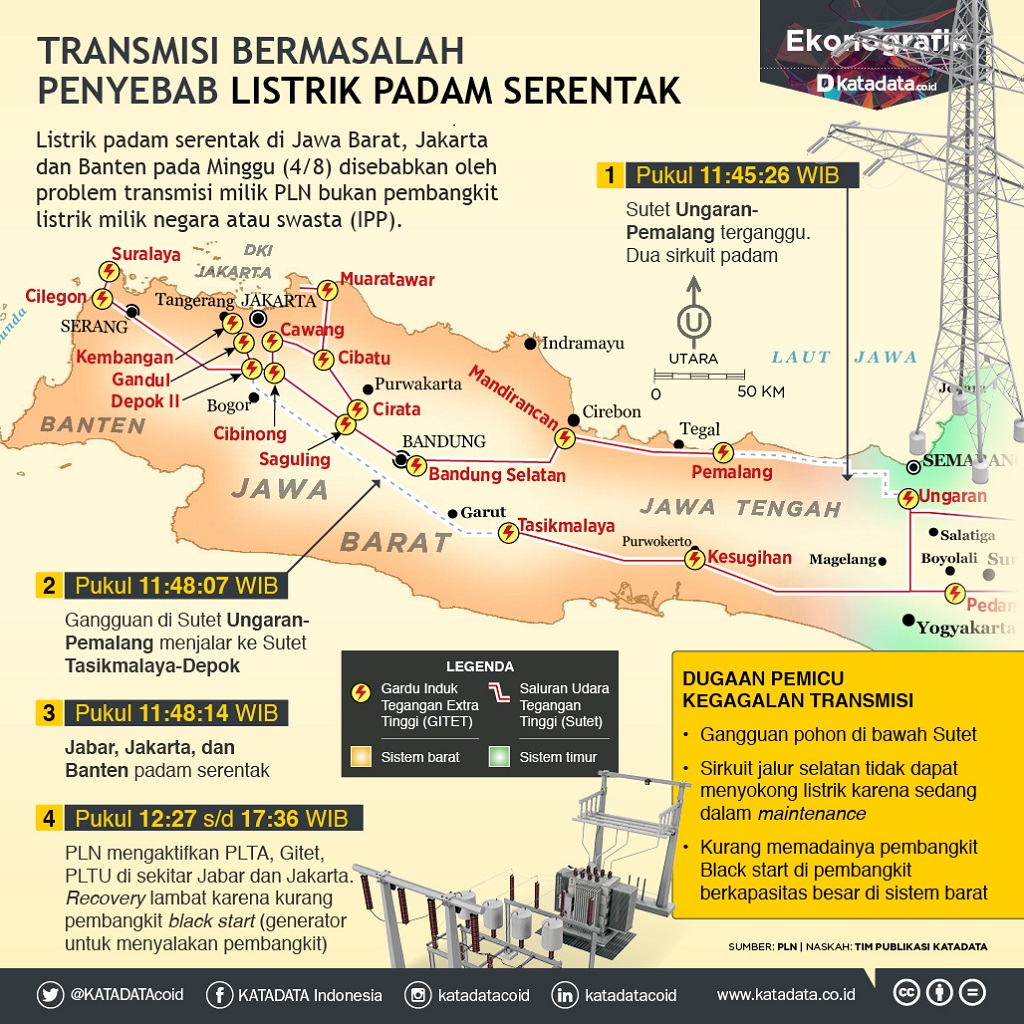 PLN (Katadata)
Another problem is related to coordination and the person responsible for Java-Bali electricity. The Java-Bali electricity system is a single entity controlled by the Load Control Center (P2B). The officers are well-educated and certified. Former president director of PLN Dahlan once privileged the P2B officers by calling them PLN's special forces (Kopasus PLN). However, with the recent power outage, he questioned the whereabouts of the officers.
The company's board of directors is now divided into several regions. The person in charge of the Java-Bali electricity system, which should have been in one unit, was split under three directors. They are West Java Regional Business Director, Central Java Regional Business Director, and Regional Business Director for East Java, Bali and Nusa Tenggara.
According to him, the P2B needs to continue to coordinate and perform meeting every three months to evaluate the development of the electricity system in Java. "P2B meetings should not be considered ordinary meetings that can be eliminated for the sake of efficiency to reap profit," Dahlan said.