The US-China trade war began to suppress the Indonesian textile industry. Moody's rating agency predicts China's yarn, fabric, and garment products will enter Indonesia massively.
The US President Donald Trump has applied a 25 percent tariff on textile products from China. Meanwhile, products from Indonesia are subject to 10-15 percent. With these tariff differences, Moody's sees an opportunity for Beijing to shift its textile products to Southeast Asia, including Indonesia.
It will lead to an oversupply of domestic textiles, making the price drop and hit the manufacturing sector. "The Indonesian textile companies that we rank are not immune to the dumping of textile products from China," Moody's Analyst Stephanie Cheong wrote in a statement on Monday (8/19).
Dumping is a term for unfair competition by setting lower selling prices abroad than the standard rates. It aims to increase the export market share and kill the competition.
However, Cheong remains optimistic that the textile companies' credit profile will be stable in the next 12 to 18 months. This is supported by the robust export market and cooperation with buyers. "Their products cannot be easily replaced by other manufacturers," he said.
Indonesian Synthetic Fiber Producers Association (APSYFI) also saw the pressure on the textile industry. APSYFI Secretary General Redma Gita Wirawasta said the performance of the textile industry sector has continued to decline in the last ten years.
On average, exports only rose three percent, while imports rose 12 percent. "Our exports are difficult to grow, while imports flood our domestic market," Redma told Katadata.co.id.
The trade war became an opportunity for Indonesian textiles to take over the Chinese market. But unfortunately, the competitiveness of domestic products is still weak. Costs of energy, logistics, and labor are the inhibiting components.
On the other hand, the Indonesian market is an easy target for China since the government does not apply trade barriers, which is different from Brazil, Turkey, and India. "The only one still open is our market," he said.
The most affected are companies that rely on the domestic market. The rating downgrade of bond from PT Delta Merlin Dunia Textile, a subsidiary of Duniatex Group, was one of the examples.
Redma said the rating downgrade happened because of various reasons, including the trade war. However, the main trigger was Duniatex's yarn and fabric products, which are huge for domestic consumers, cannot compete with imported goods. "Because of our pro-import trade policy," he said.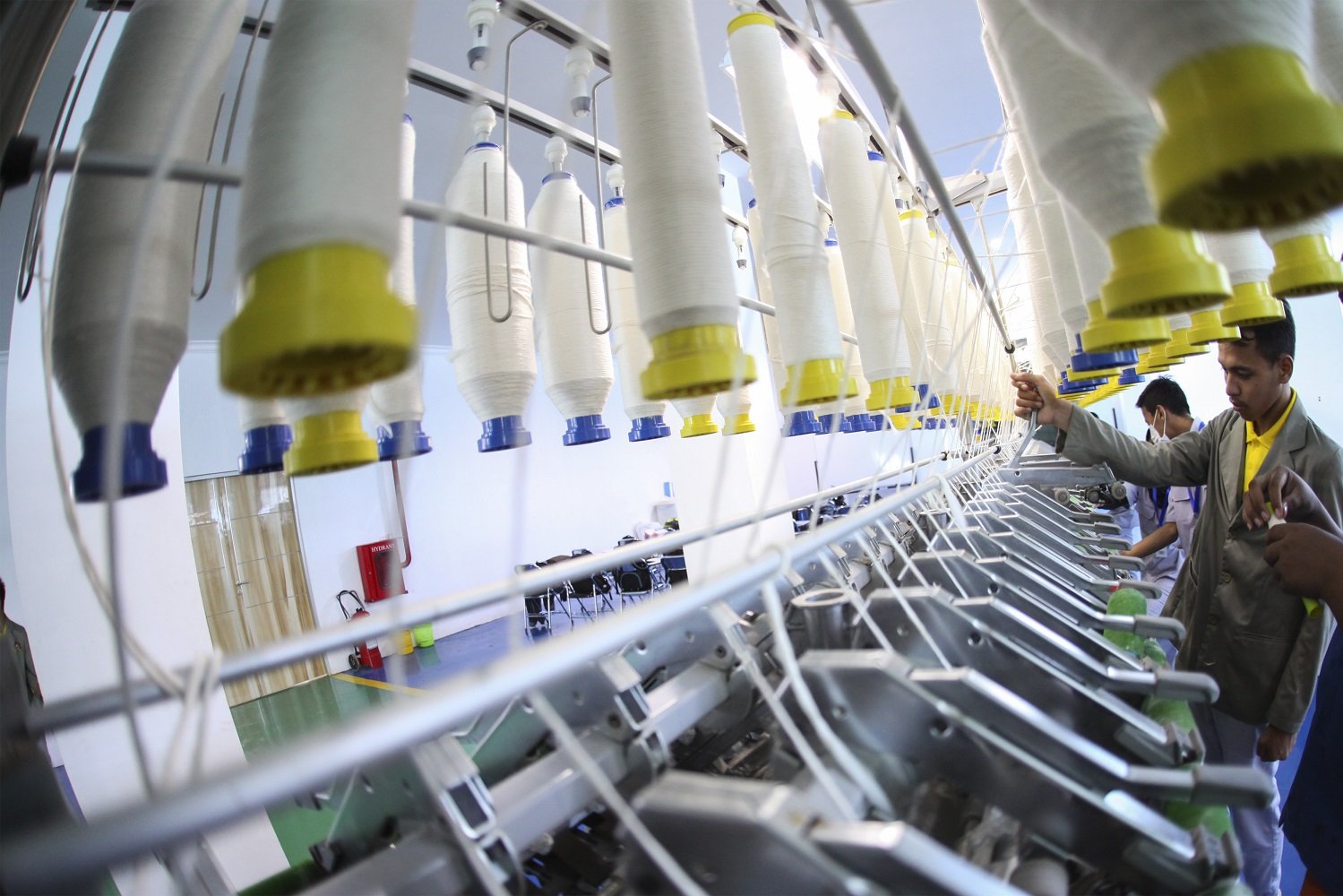 The domestic textile industry flooded with Chinese products due to the trade war. (ANTARA FOTO/Maulana Surya)
Default Risk Overshadows Duniatex
Last month, the financial market was surprised by the projection that Delta Merlin would not be able to pay its bond coupon or would be in default status, even though the company had just issued bonds worth US$ 300 million (around Rp 4.2 trillion) with a coupon of 8.625 percent four months earlier.
The company's cash is estimated to be insufficient to meet the coupon payment of Rp 400-450 billion due in September 2019. As a consequence, Standard and Poor's (S&P) cut the company's five-year bond rating from BB- to CCC-, indicating a junk debt category.
According to S&P, the Solo-based textile company is facing a severe liquidity problem. Fitch Ratings even downgraded the Delta Merlin Dunia Textile's rating twice last month, from BB- to B- and then to CCC- on July 24, 2019.
Fitch also highlighted the company's liquidity risk. The sales dropped because they cannot compete with cheap products from China. Many products from there entered the country because of the high tariffs imposed by President Trump.
In response, Duniatex chose to focus on the continuity of its workforce, which reached 45,000 workers. The company has appointed AJ Capital Advisory to improve its finances
"Until now, the company and its production are still running as usual, without experiencing disruptions," Duniatex Group Public Relations Manager Donalia S Erlina said in Jakarta last week, as quoted by Antara.
Duniatex's financial difficulties initially arose in one of its entities, PT Delta Dunia Sandang Tekstil, that failed to fulfill its obligation to pay interest of US$ 13.4 million on July 10. Its debt value reached US$ 260 million from syndication of 14 banks, led by HSBC and BNP Paribas.
"The reason for default is liquidity, one of which is due to the US-China trade war that led to a decline in margins," AJ Capital Advisory Financial Consultant Fransiscus Alip said.