Bank Indonesia (BI) reduced its benchmark interest rate or Seven-Day Reverse Repo Rate (7DRRR) in two consecutive months. The last reduction was last week by 25 basis points to 5.5 percent.
According to BI Governor Perry Warjiyo, deposit and lending facilities were also reduced by 25 basis points to 4.75 percent and 6.25 percent, respectively.
The central bank believes this policy is consistent with the outlook on inflation, which is estimated to be below the midpoint of its forecast at 3.5 percent. The decision will also remain attractive to investment returns on domestic financial assets and support economic stability from the outer side.
"Prudential macro policies will still be accommodative to encourage bank lending, including eco-friendly financing," Perry said on Thursday (8/22).
However, the reduction of the benchmark interest rate does not seem to be able to boost bank lending directly. The current problem is tight banking liquidity, which can be seen from the availability of bank funds (liquidity) to meet credit or Loan to Deposit Ratio (LDR).
The figure was at 94.98 percent in June 2019. It was better than the last month figure of 96.19 percent, the highest level since the beginning of this year, even though the upper limit of the LDR according to BI regulations is at 92 percent.
Banks in the BUKU III category, one of four groupings that divide lenders according to their core capital, have the tightest liquidity. According to data from the Financial Services Authority (OJK), banks in BUKU I category have the loosest LDR as shown in the following Databoks chart.
Banks in BUKU IV category are having the most extensive core capital of more than Rp 30 trillion. Six banks fall into this category: BRI, Bank Mandiri, BNI, BCA, Bank CIMB Niaga, and Bank Panin.
In the first half of 2019, banks with LDR below 92 percent were only BCA, BNI, and Bank Panin. Bank Mandiri's LDR was 94.17 percent, BRI 94 percent, and CIMB Niaga 95 percent.
Banks in BUKU III category have core capital between Rp 5 trillion and Rp 30 trillion. For example, Bank Permata's LDR reached 93 percent in the last semester. BTN's LDR continues to be above 100 percent since 2015 due to the loan expansion to finance One Million Houses program launched by the government. Bank OCBC NISP's LDR was at 91.1 percent.
Banks in BUKU II category have core capital between Rp 1 trillion and Rp 5 trillion. Meanwhile, the core capital of banks in BUKU I category is less than Rp 1 trillion.
Last June, OJK also recorded a decrease in lending. The growth slowed to 9.94 percent on an annual basis compared to 11.05 percent in May 2019.
With this condition, BI remains optimistic that bank credit growth would reach ten percent-12 percent. Bank liquidity would be maintained, while lending rates are predicted to go down along with the benchmark interest rate.
Perry said banks began to reduce lending by six basis points or 0.06 percent this year. Compared to the same period last year, the decline has reached 0.3 percent. "Almost all credit interest rates drop, starting from working capital to investment and consumption," he said. The average loan interest rate in June 2019 was 10.73 percent, down 0.07 percent compared to 10.8 percent at the end of last year.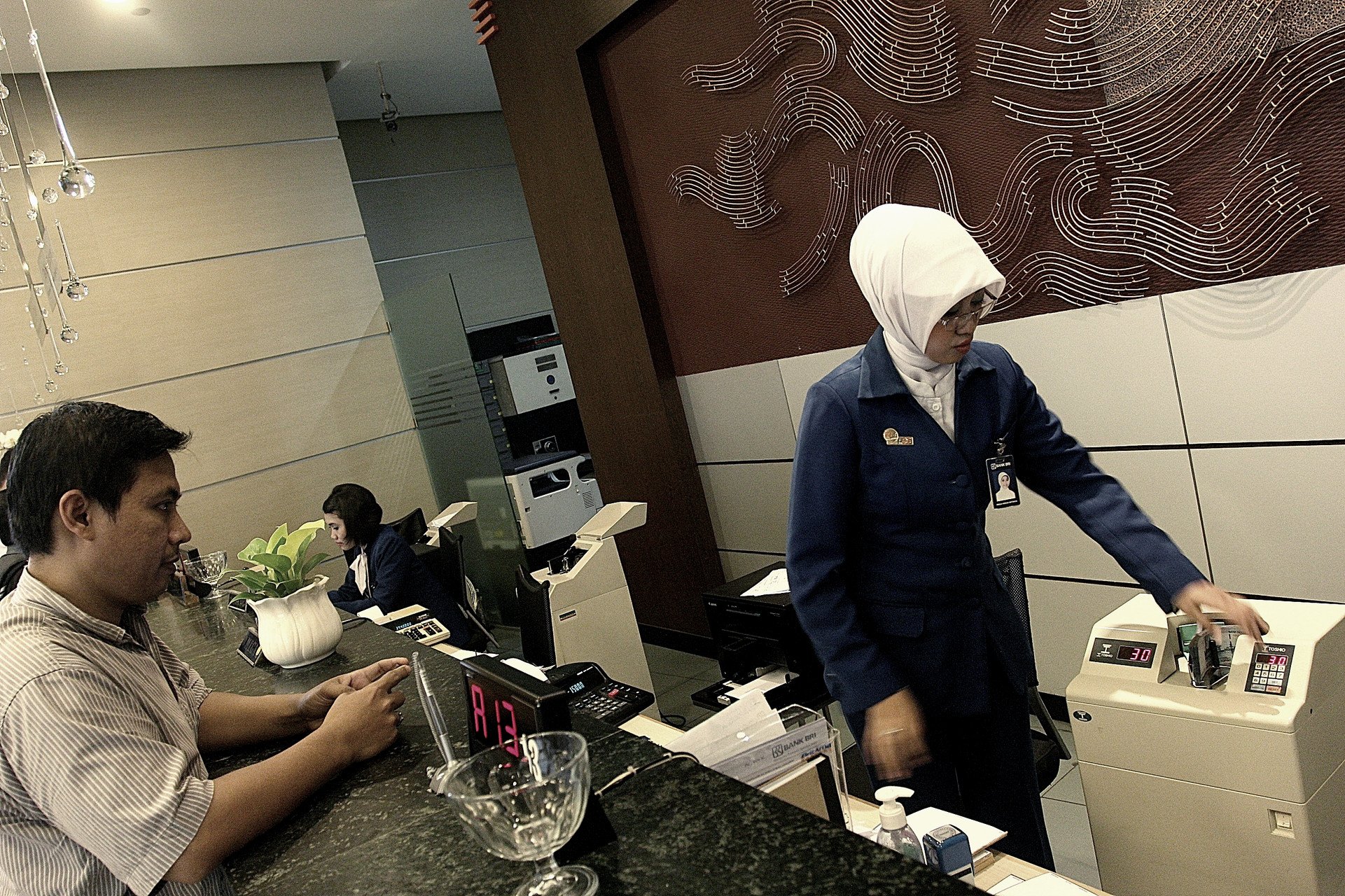 Illustration of banking activity. Bank Indonesia has just lowered its benchmark interest rate by 25 basis points to 5.5 percent amid tight liquidity. (Arief Kamaludin|KATADATA)
Liquidity Remains Tight
Indonesia Deposit Insurance Corporation (LPS) on August 13 reported that bank credit on an annual basis grew 9.92 percent until June 2019, while third party funds (DPK) rose 7.42 percent.
The third-party funds were better than the previous month as triggered by the return of deposit funds after Lebaran (Eid al-Fitr) 2019. Thus, the LDR was at the level of 94.28 percent, slightly better than OJK's data.
LPS sees that the rate of credit growth would still be higher than the third party funds. It is in line with the easing of the primary reserve requirement (GWM) and monetary interest rates implemented by BI.
There is a chance for big banks to expand, while the rate of fund growth would determine the expansion opportunity for medium and small banks.
The Center of Reform on Economics (CORE) Research Director Pieter Abdullah Redjalam said the tight liquidity in banks has been happening for a long time. The leading cause is BI's contractionary monetary policy.
He referred to the economic report published by BI every year. In response to banks with liquidity difficulties, the central bank often implements a contractionary monetary policy. This policy is intended to slow down economic activities, such as reducing the money supply.
With a contractionary monetary policy, banking funds are absorbed into BI. Banks' ability to create money through lending is minimized. "As a result, economic liquidity continues to be restrained and even tends to decline," Pieter told Katadata.co.id.