This condition is also evident from the M2 money-supply measure to gross domestic product (GDP) ratio. For more than a decade, Indonesia's M2 rate stuck below 40 percent.
According to Pieter, it lags behind other Asian countries. The M2 rates are around 125 percent in Thailand, Malaysia, and Singapore. It is 200 percent in China. Japan is even more advanced at 250 percent.
According to BI, M2 is money in the broadest sense. It includes currency held by the public, and money in the form of securities plus quasi-money (savings, time deposits, and demand deposits in foreign currencies), and securities issued by the monetary system owned by the domestic private sector with a remaining period of up to one year.
"We have tight liquidity," Pieter said. Unfortunately, BI sees the opposite and continues to implement a contractionary monetary policy.
He added that the government, which currently issued many bonds (SUN), only reduced banking liquidity in a brief period.
Pieter believes the current tight liquidity is caused by BI's contractionary monetary policy, even though it is currently diminishing. "Expansionary monetary policy is required and in a long period to make the banking liquidity loose," he said.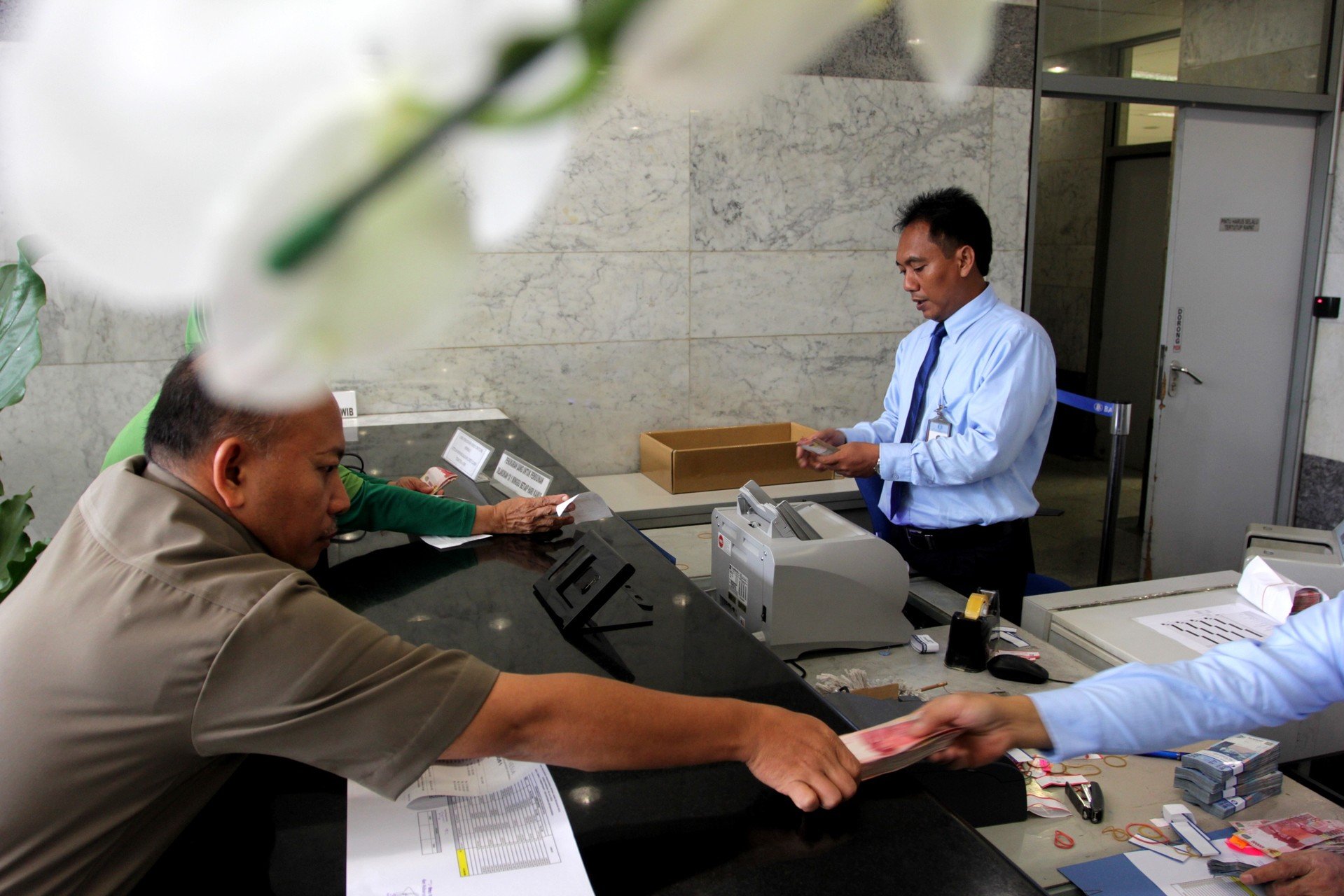 Illustration of banking activity. Bank Indonesia has just lowered its benchmark interest rate by 25 basis points to 5.5 percent amid tight liquidity. (Arief Kamaludin|KATADATA)
Is Bank Loan Interest Rate Declining?
In spite of all these conditions, the public indeed wonders when loan interest falls. BI has lowered its benchmark interest rate twice, but only has a slight impact on bank loan interest.
According to Pieter, the potential is still there but cannot be fast. "The process will be slow," he said. Bank liquidity is still tight, and the central bank has yet to implement an expansionary monetary policy that prompts economic activity.
BCA President Director Jahja Setiatmadja admitted that BCA still needs to assess the impact of the BI benchmark rate reduction. So far, the bank has reduced deposit rates by 0.25 percent and lending rates selectively.
"There has been a decrease in loan interest, but it depends on the level of customer risk, so not all affected. In the future, mortgage rates can be lowered, but we have yet to calculate it," Jahja said last Friday.
Although mortgage rates reduced, Jahja assessed that the demand for property loans would remain weak this year. Until the first half of this year, BCA's home loan portfolio reached Rp 87.8 trillion, up 3.2 percent compared to the position at the end of last year.
Similar to Jahja, BRI Finance Director Haru Koesmahargyo also has not made a calculation related to the impact of the BI benchmark rate adjustment. "BRI had just lowered the loan interest rates for all segments by 0.25 percent two weeks ago. We will recalculate the next reduction. All segments have potential, including mortgages," he said.
CIMB Niaga Consumer Banking Director Lani Darmawan also still calculates the impact of the BI benchmark rate reduction on CIMB Niaga's cost of funds. "But we usually adjust the decline based on the BI benchmark rate," Lani said.
Lani also mentioned that housing loans (KPR) and vehicle loans (KKB) would be subject to adjustment. Currently, CIMB Niaga sets the prime lending rate (SBDK) for the KPR segment at 9.9 percent.